Prices
Freezing semen is a a very complex work that can only be successful, when everything is being done very precisely and correct. This includes collecting the semen, investigation of the motility, sperm count and pathology of the semen, and the dilution and freezing process of the semen.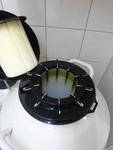 Some days after the freezing one straw is thawed to look at the quality of the semen after the freezing process. The quality can be quite different within the dogs. The price for the first freezing process is 340 Euros, for the second time 285 Euros.
With one semen collection you can get one to ten insemination doses. In general you can get more insemination doses in the bigger breeds.
The price for the insemination is for the vaginal insemination around 180-217€ Euros,
for the intra-uterine insemination around 240-290€ Euros.
Very important for the success is the right insemination time.
Call us.
Would you like to make an appointment? Or do you have any questions about our offer? Give us a call! You can reach us at: +49(0)231/96787910
Follow us on facebook.
On Facebook we report about breeding successes and news around our dog sperm bank. Click on
'Like'
and stay up to date!
Send us a message.
Of course you can also send us a message at any time. Here you will find our
contact form.